Full-Time MBA
The Fisher MBA: Designed Around You
The Fisher College of Business Full-Time MBA program provides high-caliber learning experiences that maximize the potential of each student. Enriched with skills assessments, individualized coaching, a personalized curriculum and on-site opportunities to put theory into practice, the innovative MBA program cultivates career competencies that are highly sought by employers today. Fisher has transformed the Full-Time MBA experience to create the business leaders of tomorrow.
  Upcoming webinars / On-campus events  The Fisher Difference
Fisher's STEM MBA specialization
Full-Time MBA students can pursue the STEM MBA specialization, which provides career opportunities and technical skill development. International students can also remain in the U.S. for an additional two years of Optional Practical Training (OPT).
30 of 60 credit hours must be STEM      
18 are already in the required core classes      
Choose 12 credit hours from select electives
GMAT/GRE waivers for Full-Time MBA applicants
The Full-Time MBA program is now offering GMAT/GRE test waivers for autumn 2022 applicants. MBA applicants seeking a test waiver will have additional weight placed on the remaining application components and will be asked to submit a supplemental essay. 
---
Personalized. Integrated. Experiential.
Fisher's Full-Time MBA student journey is more personalized, experiential and integrated than ever. The flexible curriculum — led by experts from a variety of core disciplines — incorporates immersive, cross-functional projects for top companies and organizations in Columbus, Ohio and globally.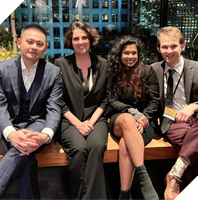 Learning happens when one puts into practice all the theories studied in the classroom. Having the opportunity to participate in The John Molson International Case Competition, and other experiential learning opportunities has been invaluable within the Fisher MBA program, and ultimately my life, journey. 
Jaimie
Santmyer
MBA (Class of 2024 )
Upcoming internship: McKinsey & Company
---
Travel the World of Global Business
Your education extends far beyond the classroom thanks to academic, corporate, and non-profit partnerships on The Ohio State University campus, in the capital city of Columbus - home to one of the highest concentrations of Fortune 1000 businesses. Fisher doesn't stop at Ohio's borders. The MBA program offers students a global experience.
COVID-19 Impact: The university has currently suspended travel until further notice. Depending on when the suspension ends, this may impact offerings with travel such as GAP or GBE.
Discover Experiential Learning in the Fisher MBA
---
Become part of the Fisher Community
The Fisher culture and diversified students are a key part of our impressive rankings. The full-time MBA program tailors each student's journey to individual development needs and career aspirations. It's an intimate learning experience within a comprehensive, research-based university.
View the Current MBA Class Profile
Take these 3 steps to start the program:
Events / connect with usStart your ApplicationView Scholarship Info
Get your invite to Red Carpet Weekend!
Each year Fisher hosts a VIP Red Carpet event to get admitted Full-Time MBA students excited about the Fisher MBA experience. Get your application completed so you'll receive an invite to this fantastic event when registration opens.
Contact Us
Whether you are in the beginning stages of your program search or you have already decided that one of Fisher's graduate programs is the right fit for you, we encourage you to connect with us.
Contact Fisher's Graduate Programs Office directly to schedule on-campus activities such as in-person meetings, class visits and campus tours. We will do our best to accommodate your request in-person or virtually within university guidelines - Safe and Healthy Buckeyes.
©2023 Fisher College of Business
2100 Neil Avenue, Columbus, Ohio 43210