Dean Makhija engages with alumni and friends in Asia
As it embarks on a second century of creating leaders equipped to make impacts around the world, Fisher College of Business recently took advantage of an opportunity to engage with students, alumni, partners and friends throughout Asia as part of a weeklong tour.
Dean Anil K. Makhija traveled to Singapore and Hong Kong to see firsthand how Fisher students, programs and alumni are advancing and elevating the practice of business on an international scale. While overseas, Dean Makhija met with alumni as well as partners such as the Singapore Management University to discuss new collaborations and to strengthen relationships to provide additional global learning opportunities.
The visits to Singapore and Hong Kong featured receptions in which Buckeyes abroad learned about Fisher's strategic vision and the ways it is positioning itself as a builder of leaders.
"We talk often about equipping our students with the skills and perspectives that are critical in the global marketplace, as well as building key relationships with our alumni, partners and friends throughout the world," Makhija said. "This trip was incredibly eye-opening and a wonderful way to showcase how our students — as interns — are providing companies with out-of-the-box thinking, and how our partners are leveraging Fisher's robust recruiting pipeline."
In all, nearly 30 Fisher students spent the summer as interns across multiple industries in Hong Kong and Singapore. At the receptions, several students shared their experiences and the value their internships have added to their Fisher education.
"It's critical that our students see and experience how business today is conducted on a global scale," said Joyce Steffan, director of Fisher's Office of Global Business, who accompanied Dean Makhija. "Trips such as this one are valuable to our office's mission of designing programs that create real value for our students as well as our partners in Asia and around the world."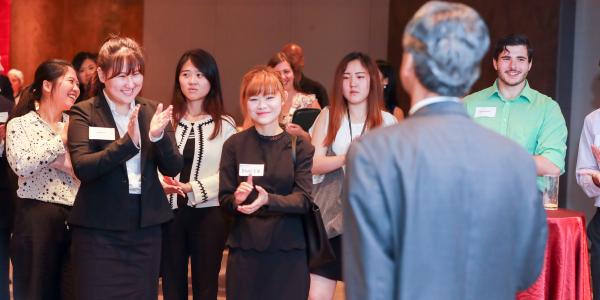 The international trip was made possible by the support of Ohio State's Global Gateway in China as well as the university's Hong Kong Alumni Club.
"The opportunity to see firsthand how Fisher is impacting the way business is conducted around the world was incredibly inspiring and provided me with the optimism that our purpose of creating ideas, encouraging scholars and developing principled leaders is more important than ever," Makhija said. "I want to thank everyone who made these visits possible — especially our partner companies and friends who continue to mentor and support our students as they gain experience as interns and employees."
©2023 Fisher College of Business
2100 Neil Avenue, Columbus, Ohio 43210