Welcome Fisher MBA Class of 2016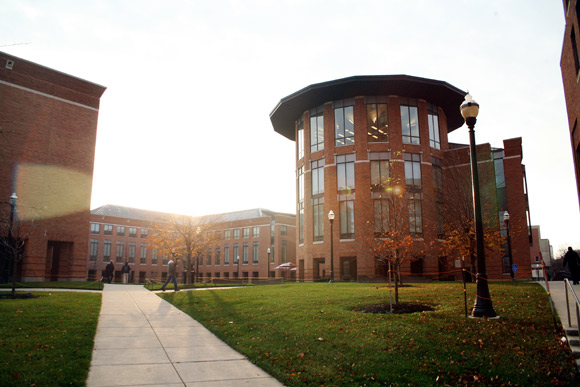 It was a warm morning. Not too uncomfortable, although it left little doubt that the afternoon would be quite hot. As if I didn't have enough on my mind already while making my way across the Fisher campus, I now had to brood over the efficiency of the off-brand antiperspirant I was wearing. Coming up to Schoenbaum Hall,  I took one last glance at the Pre-Term schedule I had printed out the night before to make sure I was in the right place, heaved one last heavy breath, and entered the building.
The door opened into a small corridor brimming with well-dressed men and women, acquainting and socializing, demonstrating their varied levels of networking competence. Striding across the corridor, from handshake to handshake, I felt as if my mind was hosting a potluck attended by two dozen different versions of myself, each bringing a different emotion. I was excited; I was nervous. I was confident; I was diffident. I was calm; I was frantic.
An administrator directed us through two sets of doors leading into a large lecture hall with stadium seating. I found a seat and continued to converse with my neighbors, trying desperately to remember their names without looking at their name tags. The murmuring in the halls quieted down as the administrator stepped forth once again and, to a roaring applause, officially welcomed the Fisher MBA Class of 2016 to the Pre-Term Orientation.
What transpired over the following week and a half of orientation is far too much to detail in just one blog post, but in summary, it was truly an uplifting and apprehension-slaying event. It was an exciting blend of macro and micro insights into the adventure my class and I are about to begin. Between meeting my classmates, getting assigned my cohort (shout out to Team 11!), learning about all the student groups and opportunities, lectures from such distinguished guests as the CEO of Sherwin-Williams, Christopher Connor, and activities such as team-building exercises at Summit Vision - which was far more enjoyable and of practical use than my skeptical mind expected - orientation provided an excellent introduction to this new chapter in my life.
I've come a long way to get here (more on that in another post). As bumpy as the road was at times, I'm sure ahead it will be even more long and winding. Great changes come prepackaged with great uncertainty. I might not be venturing into the last frontier, but I am running full-speed into my own unknown with nothing but drive and optimism providing bright but limited lighting. But as far as I can tell, I couldn't ask for better resources to help guide me along the way than those which I have found at the Fisher College of Business at THE Ohio State University.