In the months leading up to my return to school, one question continuously crossed my mind: What does a day as a Fisher MBA student actually look like? Although my campus visits during my interview and Red Carpet Weekend gave me a good feel for the program, it's hard to know what your day-to-day will be until you actually get here. So, I decided I would give you a taste of a typical day as a Fisher FTMBA. I like to keep myself extremely busy, but this day (below) was an unusually busy one for me. Your own schedule will obviously vary based on what you decide to get involved in and any obligations you have outside of Fisher, so take this as just one example of what life here is like:
Thursday, 11/09/17
7:45am – Roll out of bed after "snoozing" my alarms at least ten times. I hate mornings, but many of our core classes begin at 8:30am so you do what you have to do. Luckily, my roommate (a third-year vet student) shares my sentiments.
8:10am – Head to campus to begin my day. I live in Grandview a little more than two miles from Fisher, so I usually drive and park on campus.
8:30am – Operations I – I'm a marketing major, but I've always been fascinated by operations and I have to say that I'm really enjoying this class. Professor Hill leads us in finishing up the value stream map calculations we started on Tuesday. When he's done, we have time to discuss potential solutions with our classmates based on the calculations we've made. Even though my math skills aren't stellar, I enjoy thinking about how to make processes more efficient. This class is particularly heavy in case studies, and it's really helpful to apply the principles of operations to real-world examples.
10am – Professor Hill lets us out a few minutes early, so I make my way downstairs to drop off some stuff in my locker and grab coffee from Rohr Cafe. I try to make coffee at home in my Keurig to save money, but I often don't leave myself enough time to do that before I have to leave for class. On my way, I run into Julee Conrad and Sarah Campbell from Admissions. They offer me free coffee from the Fall Preview Day table. The GPO is the best!
10:15am – Accounting – We just had our second midterm exam on Tuesday, so today we're transitioning from Financial to Managerial Accounting. Accounting is the quant-heavy class I like the most because the math is fairly basic and Professor Xue (most of us just call her Sue) is the best. Our last Financial Accounting unit was difficult, so I'm glad to be moving in a new direction.
12pm – I pass by my friend Courtney in a study room on my way out of Accounting and stop by for a chat. Courtney is a second-year student and the president of the Fisher Graduate Women in Business (FGWIB), and I work closely with her as one of FGWIB's first-year liaisons. We talk about FGWIB, Fisher, and life in general– and before I know it it's almost time for my next class! The second-year MBAs have been an incredibly valuable resource and I can't wait to pay it forward next year. So if you're reading this and are starting at Fisher next fall, come find me!
12:45pm – Quickly scarf down some leftovers for lunch before heading to Finance class. I'm not always good about packing lunch or cooking in general, but I try. Gerlach Hall, home of the Fisher graduate programs, has fridges and microwaves and there aren't a lot of places to get food by Fisher. Plus, it's healthier and more affordable.
1pm – Finance – This is our most quant-heavy class this semester, and the English major in me has been struggling. Luckily, I have awesome classmates and a great TA who help me get through it. Professor Wellman does a lot of example problems in class, and copying down the solutions as he works through them helps me understand the material. Today we continue our discussions on the interest tax shield and capital structure decisions.
2:45pm – I head to the Office of Career Management for a meeting with Chase which is recruiting on campus today. I've been working hard on my internship search since I got to campus, and Chase is one of my top choices.
3:15pm – I have a little time to kill before my next meeting, so I stop by the Graduate Student Lounge. I spot Ashley, another one of my second-year friends and the co-president of the Fisher Sports Business Association of which I'm also a member. The lounge is a great place to catch up with friends between classes and do group work. I often pass through just to see if any of my friends are around. I won puppy playtime with Ashley's dogs at last week's Fisher Follies auction, and I can't wait to meet them!
4pm – The Office of Career Management started a Job Search Action Team program, and today is my team's first meeting. The teams are made up of students across all of Fisher's graduate programs and led by one of our career counselors. The goal is to support each other as we move through our internship and job searches. We get to know each other and learn about "feedforward," a positive feedback system we'll be using in future meetings.
5pm – After the meeting ends, I run over to the Blackwell for a happy hour with prospective students. The admissions team is always looking for volunteers for our Fall Preview Days and I love to help out. It's nice to unwind with some of my friends after a long week and share my experiences with people who might just be my classmates one day!
5:50pm – I make my way back to Gerlach Hall for Chase's info session. After hearing more about the company and their opportunities, we have the chance to network with a number of representatives from the Columbus office. I'm inspired by Chase's initiatives in the digital banking space and impressed by their customer-focused mission. I leave the session exhilarated and look forward to learning more as I move through the application and interview process.
8:00pm – I finish up just in time to give my friend a ride home from yoga class. Normally we both go to yoga Thursday at 7pm at the North Recreation Center, but my schedule was just too full today.
8:30pm – Get home in time to collapse on my couch and watch some TV. It's Thursday, which means I have no class tomorrow!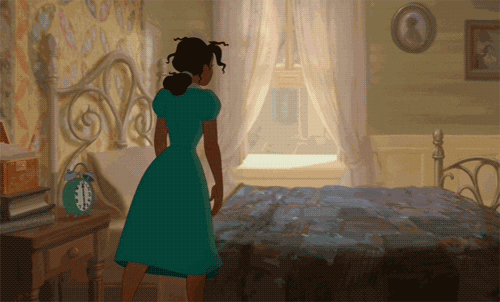 Hope you enjoyed a day in my life! If you want to see more posts like this, feel free to let me know in the comments.