By Mark Wilson, Director of Employer Relations & Technology
If we are really honest with ourselves, we've all been scared on some level about the job search.  Sometimes this fear can bring about a really bad case of job search procrastination.  By procrastinating, we can avoid facing our job search fears by not reaching out to people to build a network, by not applying to opportunities and by not practicing our interviewing skills.  By avoiding the work of the job search we don't have to face our fear of rejection.  As a result, the search for employment can stall and even fizzle out.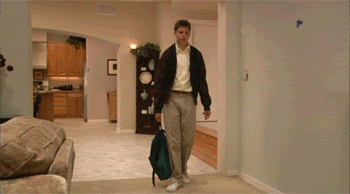 The best way to avoid letting procrastination drag you down is to keep moving forward with your search. Once you have your momentum going forward it is easier to keep going than to have to start over.  As we all know, it is a real drag on our energy and confidence when we lose our momentum and feel like we are starting from scratch. Even worse, feeling like we had circumstances on our side and then we dropped the ball letting the momentum die.
Ten ideas on how to keep the momentum in your job search alive:
Set up a meeting for coffee with someone you admire and get their advice
Explore your school's alumni network and find alumni to get advice from
If you're in school, make an appointment with your career services office
Find a book on job search strategy and make it a goal to read one chapter you find interesting
Find a local career fair to attend in the next two months and put it on your calendar
Make sure you have the "uniform" you need for interviews and meetings
Polish your shoes – especially guys, we are lazy about this but it is part of your first impression
Have someone review your resume one more time
Learn about informational interviews and set one up
Write thank you notes to people who have recently helped you or even people who helped you five years ago
The real secret to momentum is doing little things on a consistent basis.  If you keep moving you will build momentum for your job search which will in turn boost your energy and confidence.  People with these two things are much more attractive to employers. Keep doing the little things for your job search and over time you will have accomplished the big thing – finding a job.