The first thing I do when coming out to our lobby to get a student for their QUIC interview is offer my hand up for a handshake. "Hi, I'm Audra!"
In business, a handshake can say so many things about you. The handshake needs to be firm (not death-grip firm, but firm) and with confidence and purpose.
One thing that need not be included in your handshake?? Clammy hands.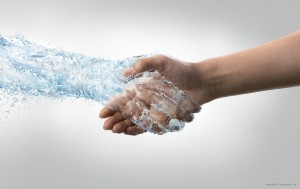 Clammy hands, also known as sweaty palms, are a common occurrence with interviewees. Their nerves get the best of them, and those nerves can manifest through hand perspiration. But don't worry – it happens to the best of us!!!
An easy tip? Shortly before your scheduled interview time, simply (but thoroughly) wipe the backs and front of your hands on your pants. It is better to have your nervous perspiration on your own pants than on the recruiter's hands. For obvious reasons.